Best Restaurants in Guthrie, OK
Are you in the Guthrie, Oklahoma, area and looking for a great restaurant where you can enjoy quality food and service? There are several restaurants in this location that serve fresh foods that will satisfy your appetite. From Mexican and Italian to American food, you'll find the perfect spot to enjoy a meal with your friends and family, regardless of what you're craving. Let's take a look at some of the best restaurants in Guthrie, Oklahoma.
Stables Cafe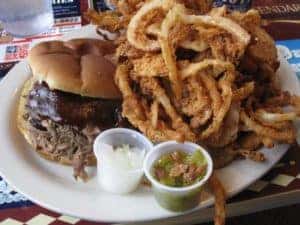 Stables Cafe is a moderately priced, casual cafe with loads of history. The cafe was established in 1987, though it started as a stable and wagon yard. Now, Stables Cafe is a vintage restaurant that brings home-cooked food straight to your table. Once you step inside, you'll feel like you've been transported to the past because you'll be surrounded by the store's porcelain signs and antique decorations.
This location has a large menu that focuses on barbecue and steakhouse dinners. You can enjoy barbecue pork ribs, beef brisket, a Kansas City strip, or a rib-eye steak. Some of its other popular meals include the chicken-fried steak, chopped beef on Texas toast, and nine varieties of burgers. You can also take a trip to the salad bar or choose from a wide variety of sandwiches.
Roma's Italian Restaurant
Roma's Italian Restaurant is a casual, authentic Italian eatery that offers a large, moderately priced menu of Italian specialties. This family-owned and operated restaurant originated in Europe before moving to Oklahoma in 1999. They began serving up fresh Italian dishes to locals when they moved the restaurant to Guthrie in 2009.
This authentic Italian restaurant has a menu that ranges from pizza to seafood to pasta. You can order a cheese or supreme pizza, or customize a pizza with whatever toppings you'd like. Roma's Italian Restaurant also serves sandwiches, including calzones, strombolis, or meatball Parmigiano subs. They have a large menu of pasta dishes, including seafood pastas, baked homemade pastas, and unique pasta dishes, such as tortellini modo mio, chicken damabianco, and sausage pizzola.
Gage's Steakhouse
For a fancier night on the town, try Gage's Steakhouse. This restaurant is more formal, and it has higher prices compared to the more casual restaurants. However, the experience of a luxurious atmosphere and amazing food is well worth the extra expense. Additionally, Gage's often has lower prices than your average steak house. At Gage's, you'll be greeted with great service and even better food.
Gage's Steakhouse has a sophisticated menu with several dishes to choose from. You can start your meal with soup, salad, or an appetizer, such as pan-seared crab cakes. For your main dish, you can select from a variety of gourmet dishes, such as twin tournedos of beef au poivre, crab- and shrimp-stuffed flounder, or Caribbean-style duck breast. You can finish your meal with a decadent dessert, such as creme brulee or chocolate lava cake.
Boomarang Diner
Boomarang Diner is a family-run cafe with prices you can't beat. This is one of the more informal restaurants on the list, but that doesn't mean the food isn't high quality. In fact, Boomarang Diner is so popular that it has opened several franchises across Oklahoma. But if you're in Guthrie, you should stop by this retro diner. At Boomarang, you'll be treated like family as soon as you walk in the door.
This diner has menus for breakfast, lunch, and dinner, and the breakfast menu is served all day. The Boomarang is known for its burgers, so you should try either the Old Fashioned burger or the JJ Burger, which features grilled onions and jalapeños. Besides burgers, consider a chicken sandwich, a BLT, or a Reuben. Don't forget the breakfast menu, which offers plenty of egg options, pancakes, and biscuit plates.
El Rodeo Mexican Restaurant
El Rodeo Mexican Restaurant is an authentic Mexican restaurant that's proud to serve the Guthrie community. This is a casual location that serves fresh, high-quality dishes. If you're craving authentic Mexican food, head straight to El Rodeo. This restaurant has decent prices, which gives you even more reason to eat there.
El Rodeo has a large menu with several categories, including appetizers, soups and salads, lunch, dinner, and create-your-own plates. It offers many Mexican dishes, such as street tacos, enchiladas, burritos, and fajitas. El Rodeo even serves traditional Mexican specials. For example, you can order the De Loera Plate, Tacos Al Carbon, or Chuletas de Puerco.
Katie's Diner
Katie's Diner is a quaint restaurant that values high-quality service, ingredients, and food. This American diner is family-owned and operated and has been open for over 16 years. For modest prices, you'll enjoy a home-cooked meal in a casual and welcoming atmosphere.
At Katie's Diner, you'll find an expansive breakfast and lunch menu. The breakfast menu has food items ranging from customizable omelets to buttermilk pancakes and waffles. Meanwhile, the lunch menu has many sections, including entrees, Angus beef burgers, signature sandwiches, and other delicious meals. If you have room for dessert, try Katie's pecan pie or strawberry shortcakes.
Railhead BBQ
If you're craving fresh barbecue and other delicious meals, consider trying Railhead BBQ. This location has been serving up some of the best barbecue dishes since 2003, and the owners welcome you to come and try their great selection of foods. This American barbecue restaurant has moderate prices, and the atmosphere is informal and comfortable.
At Railhead BBQ, you can choose from a large variety of fresh barbecued meats and other dishes. If you have a huge appetite, you can order meat by the pound. Some of its other items include ribs, fried chicken, loaded baked potatoes, and burgers. One of its specialties is a dinner combo where you can choose up to three different types of meat and one to two side dishes.
If you're ever in the Guthrie, Oklahoma, area, try stopping by one of these amazing restaurants. With this many options, you're bound to find a restaurant that you'll love. Did you find our list satisfactory? Did we miss one of your favorite restaurants in Guthrie? If so, please contact us so we can highlight your experience.