Interior Features of the 2022 Chevrolet Colorado
No matter where you're heading, the 2022 Chevrolet Colorado will do you a great deal to take you there. This Chevy has an excellent interior design with a well-built, functional cabin. The front seats are spacious enough to give the driver and co-driver that necessary comfort during long travels or out-of-state road trips. What's more? The 2022 Colorado has an easy-to-use infotainment system that makes it superior to its competitors in the same class. In addition, the four-wheel-drive vehicle has desirable interior features that make it ideal for people across various age groups.
If you're in the market for the perfect family-sized car that is ideal for city driving and off-road excursions in Guthrie, Oklahoma, the 2022 Chevrolet Colorado is a perfect choice. Our experts at Eskridge Chevrolet review its interior design to help you make a well-informed decision about the car.
Seating Capacity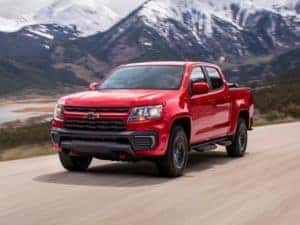 The 2022 Chevy Colorado seats up to six passengers comfortably. The model has unique interior features that help it have desirable headroom, legroom, and shoulder room, ensuring comfortable front and rear passengers. In addition, the 2022 Colorado has a power driver seat that you can adjust to your height for better visibility when driving. The other front seat is equally spacious and comfortable for adults who travel as co-drivers.
Although not as comfortable or as spacious as the front seats, the rear seats offer just enough space and slightly better legroom and headroom. The dimensions of the seats in both front and back places vary from one trim to the next. The rear seats also have sets of latch connectors that help keep children safe when you're taking your young ones for a trip.
Infotainment
The 2022 Chevrolet Colorado has one of the best interior spaces, well-fitted with a modern and easy-to-use infotainment system. The car comes with either a 7.0 or 8.0-inch touchscreen whose overall usability and snappiness are breathtaking.
The screen is sizable to enable you to watch any videos and livestream episodes of your choice as you traverse Oklahoma. The infotainment system comes with Android Auto and Apple CarPlay, giving it more connectivity options for you and your passengers. The infotainment system is easily customizable, helping you make viable decisions on usability and general performance. Smartphone App Integration permits all car users to enjoy various available apps in their vehicles.
Besides the Android and Apple features, there are additional desirable features that the infotainment comes with, mainly the AM/FM stereo that enables you to connect to your favorite radio station. Other features are Bluetooth connectivity and a WI-FI hotspot. In addition, the excellent base audio system has a crisp sound, keeping you entertained throughout the journey when taking road trips in Guthrie, Oklahoma.
The 4G LTE Wi-Fi connection keeps you connected to the world, whether you're driving in the city or going for an out-of-state excursion. You don't need to get home or in the office to access the cloud, especially when you have important emails to check or send during outings.
Safety
The Chevrolet mobile app provides enhanced security for the car. It enables you to lock and unlock the vehicle remotely while allowing you to send navigation directions to the car directly. Furthermore, the Teen Driver mode gives you the confidence to hand over your keys to your loved one. The technology can also help you track speed and set certain limits.
Other essential safety features include:
Driver and passenger airbags to protect all occupants.

Electronic stability control for rough terrain.

Automatic Braking System (ABS).

Daytime running lights for enhanced visibility.

Traction control for slippery and snowy conditions.
The car also has several steps in the rear bumper and accompanying hand grips on the bed rails, enabling you to board the vehicle and offload cargo safely.
Cargo Capacity
The Chevrolet Colorado has an extended cab model that comes with a 6-foot-2-inch long box that aids in cargo transportation. Its capacity is relatively longer than other compact pickups in the same class. The Chevy's design enables you to choose between a long box and a shorter one, 5-foot-2-inch. 
The bed size is not wide enough for sheets of plywood to rest between the wheel wells, though in fairness, that's the case in several class rivals. However, the provision of space is just enough to allow transportation of the essentials, and the amount you can carry in your Chevy depends on many factors.
However, some of the load that you can transport in your 2022 Chevy Colorado include:
Plenty of Suitcases:

If you're relocating or going on a road trip, you'll be a happy person because you can easily transport several suitcases and other personal items in the cargo compartment.

Furniture:

Whether you're a fan of shopping or moving around for hiking and visiting new places for adventure, the cargo space will provide a ready means to transport your furniture around.

Moving Boxes:

Relocation will be easier with the 2022 Colorado because you can pack different sizes of moving boxes with all your items in the cargo compartment.

Trailer:

The 2022 Colorado will significantly help you move heavy trailers quickly as it can tow up to 7,000 pounds.
You can carry all your cargo without worrying because the pickup has a powerful 2.5-liter four-cylinder that delivers 200 horsepower. The efficient V-6 engine enhances the off-road capabilities of this mid-size truck. If you were looking for a reason to try the Chevrolet Colorado, then you now have all the reasons to proceed and buy your dream car.
Test Drive the All New 2022 Chevrolet Colorado at Eskridge Chevrolet Today
The 2022 Chevrolet Colorado is arguably one of the most capable pickup trucks in its class. It also has impressive handling even though it compromises cabin experience with a retro design. Nonetheless, if you're in the market for a mid-size pickup truck with remarkable cargo capacity and off-road capabilities, then this model is what you should consider. 
At Eskridge Chevrolet, you're sure to get excellent used and pre-owned Chevy vehicles in Guthrie, Oklahoma. We pride ourselves in serving even residents from the nearby environs like Stillwater, Edmond, and Oklahoma City. So contact us today or visit our dealership to test drive the 2022 Chevrolet Colorado and learn more about our other services.