5 Healthy Restaurants in Oklahoma City
Whether you're an Oklahoma City local or just visiting, finding the perfect place to eat is probably at the top of your list. Nowadays, it's more important than ever to make sure that you're making healthy eating choices. Below, Eskridge Chevrolet has compiled our list of the five best healthy restaurants in Oklahoma City.
FRIDA Southwest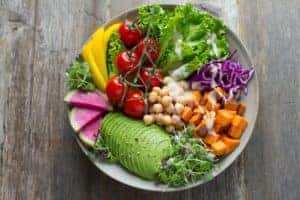 Located in the Paseo Arts District, FRIDA Southwest is an ideal spot for a healthy brunch or dinner. With flavors of the Southwest, most dishes have a Mexican influence and are made with fresh, authentic ingredients.
Hungry for brunch? Kick things off with a healthy starter. The Southwest spring rolls include pulled chicken, rajas, corn, black beans, pico, Chihuahua cheese, parmesan-asiago cream, green chili pesto, and chipotle gastrique. Or opt for one of the signature salads, like the Southwest Caesar, a mix of roasted corn, red bell pepper, toasted pepita, cotija, black beans, tortilla strips, and green chile-avocado dressing served on a bed of romaine. For your main, try Huevos Rancheros, which is vegetarian and gluten-free. Black beans, a blend of salsas, eggs, cotija, and crema are all served atop a corn tortilla quesadilla.
If you're going for dinner, start with the Heart of Palm calamari, which mimics a traditional calamari appetizer and is vegan and gluten-free. Masa pepita is tossed with pepperoncini and vegan parmesan, chipotle tomato sauce, a green chile-agave "aioli", and charred lime. Or choose one of the garden salads, like the Frida Caprese, which includes fresh mozzarella, hot house and green tomatoes, chimichurri, pickled onion, and a dressing of balsamic reduction, oil, and basil. For a healthy main, go for Wild Isle Salmon, hardwood-grilled with red chili, chimichurri, lobster-corn risotto, saffron emulsion, and grilled broccolini.
Location: 500 Paseo, Oklahoma City.
Brunch hours: 11 a.m. to 3 p.m. Saturday and 10 a.m. to 3 p.m. Sunday.
Dinner hours: 5 p.m. to 10 p.m. Tuesday through Saturday and 5 p.m. to 9 p.m. Sunday.
Vast
Home to fine dining and splendid views of Oklahoma City, Vast is the perfect spot to enjoy a healthy meal at the top of The Devon Tower. Its American menu is inspired by local flavors and is also locally sourced.
If you're making reservations for a healthy lunch, be sure to try any of the vegetarian or vegan options. The autumn wild rice soup, butternut squash quinoa salad, and maple cinnamon roasted sweet potatoes are its top vegan options. For a vegetarian meal, choose the fruit and artisan cheese, baked mac and cheese, or garlic herb mashed potatoes.
If you want to enjoy dinner, the menu is packed with more healthy options. Start with a soup or salad, like the butter lettuce salad. Whipped feta, pickled strawberries, strawberry molasses, pistachio, crushed cucumbers, and za'atar vinaigrette, all nestled in a bed of butter lettuce, is a great starter. Move on to a healthy main course like the herb-marinated chicken featuring panzanella, tomato, arugula, grilled stone fruit, and pan jus.
Location: 333 W. Sheridan Ave., Oklahoma City.
Lunch hours: 11 a.m. to 1:30 p.m. Monday through Friday.
Dinner hours: 5 p.m. to 9 p.m. Tuesday through Thursday, and 5 p.m. to 10 p.m. Fridays and Saturdays.
Bradford House
Bradford House is a cozy home away from home that offers you a place to stay after you've enjoyed a meal. Featuring an all-day cafe, cocktail bar, and intimate dining room, guests can come for a healthy meal and stay for the ambiance.
If you've got brunch on your mind, Bradford House has an extensive menu that'll satisfy your taste buds. Try the chef's quiche of the day, featuring a side artisan salad with cherry tomatoes and house vinaigrette. Or try the avocado toast, made with 30th Street market seed bread, butternut squash hummus, avocado, seed blend, egg, marinated heirloom tomato, and pickled red onion.
Ready for dinner? Start with a healthy appetizer like the Brussels sprout salad, including warmed Brussels sprouts tossed in juniper butter, greens, smoked parsnip puree, sourdough crisps, rosemary pickled shallot, bacon allium vinaigrette, mint, and parsley. For your main course, try the steelhead trout, featuring wild mushroom farro risotto, brown butter radish, pistachio dukkah, and cilantro yuzu crema.
Location: 1235 NW 38th St., Oklahoma City.
Brunch hours: 8 a.m. to 1 p.m. Monday through Sunday.
Dinner hours: 5 p.m. to 9 p.m. Wednesday through Monday.
Red Prime Steak
Red Prime Steak offers a modern fine-dining experience in the Automobile Alley section of Oklahoma City. Kick off your meal with an iceberg bowl, including grade tomato confit, Point Reyes bleu cheese, shoestring fried onions, and house-made bleu cheese dressing. Then, choose between red meat or seafood options, such as the Wagyu filet, filet mignon, pan-seared sea scallops, or cold-water lobster tail.
Location: 504 N. Broadway Ave., Oklahoma City.
Hours: 5 p.m. to 9 p.m. Sunday through Thursday and 5 p.m. to 10 p.m. Friday and Saturday.
Picasso on Paseo
Picasso on Paseo is an integral part of the arts community and a dining experience unlike any other. It has a regular dinner menu and hosts monthly dinners with vegetarian-inspired fare. For brunch, it offers a variety of healthy options, such as vegan avocado toast, seared Ahi tuna, or anything from its fresh greens menu. When you're ready for dinner, numerous healthy choices await. The skirt steak includes roasted potatoes, balsamic grilled red onions, shishito peppers, and chimichurri.
Location: 3009 Paseo Drive, Oklahoma City.
Brunch hours: 11 a.m. to 2 p.m. (mini-brunch) Saturday and 10 a.m. to 3 p.m. (brunch only) Sunday.
Dinner hours: 11 a.m. to 10 p.m. Monday through Thursday, 11 a.m. to 11 p.m. Friday and Saturday, and 4 p.m. to 9 p.m. Sunday.
So, there you have it. Eskridge Chevrolet has just shared our list of the five best healthy restaurants in Oklahoma City. What do you think of our list? Don't see your favorite? Be sure to contact our dedicated team to let us know. While you're at it, don't forget to schedule your next service and browse our newest inventory to find your next vehicle.
Image by Anna Pelzer Licensed via Unsplash